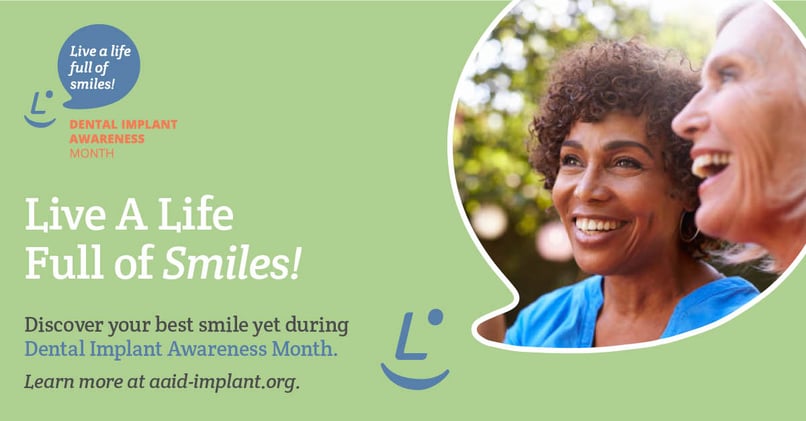 It's almost September, and you know what that means: Dental Implant Awareness Month!
Join us and hundreds of American Academy of Implant Dentistry (AAID) dentists and their patients as we celebrate.
This year's theme "What's your reason to smile?" aims to empower individuals considering dental implants through education and celebrate those who are already living a life full of smiles with their dental implants.
Here are 6 reasons to smile about dental implants:
You can eat with confidence. When you have missing teeth, you may have to eliminate certain crucial foods from your diet, like fruits and vegetables, legumes, nuts and meats. Since dental implants function just like real teeth, you'll have the peace of mind to eat what you love without any worry.
Dental implants look and act like natural teeth. Because they're designed to fuse with bone, dental implants are a permanent solution that look and feel like natural teeth. They closely replicate the construction of a tooth from the root underneath the gum tissue to the attractive crown; they're the best tooth replacement option.
You'll be able to speak with confidence.

Dental implants restore both your smile and your self-confidence. They'll be secure in your mouth, so they won't slip or click when you talk. With dental implants you'll be able to say what you want to say and be as active as you want to be.

Dental implants keep your facial structure.

Dental implants are the only tooth replacement option that actually helps stimulate bone growth and prevent bone loss. They help you retain your natural face shape and smile. Getting dental implants as soon as possible after losing a tooth helps prevent bone loss at the site.

No special care required.

Other tooth replacement options require special hygienic care. With dental implants, you brush and floss them just like you do your natural teeth. They're very durable, and, with good care, can last a lifetime.

Dental implants protect healthy teeth.

Dental implants don't require grinding down adjacent teeth to anchor bridges or attach partial dentures. An implant is embedded in the open socket of your jaw and does not negatively affect the surrounding teeth.
Modern dental implants have been used successfully for over 30 years. They are the strongest devices available to support replacement teeth – and even better, they allow these new teeth to feel, look and function naturally.
When Linda Hembree's tooth-supported bridge (which had been used to replace six of her front teeth) needed to be replaced again, she was told that it wouldn't be a permanent solution or last as long as teeth restored with dental implants. When Linda chose dental implants she turned to an AAID-credentialed dentist for help. "The implants are more solid. Durability is better. You're a little more secure – you're not worried you're going to break your bridge or afraid to go out to eat," she said. "But get a good, implant dentist. You're pretty much putting your appearance in the hands of this person."
Erik Lindstrom said he chose a dental implant over other options because he was to be able to eat what he wanted. "I wasn't going to forgo chewing gum, eating apples and corn on the cob," he said. "I can eat all of that now, no problem. I love the implant and I can't say enough about how Dr. Palmer worked with me. Nobody knows that it's not a natural tooth."
AAID-credentialed dental implant experts are passionate about helping patients live life the way they want to. They're happy to talk with you about treatment options, share their success stories and answer questions.
"Dental Implant Awareness Month is a great opportunity to raise awareness on making informed, healthy decisions regarding dental implants," explains President of the AAID, Dr. Natalie Wong, DDS, FAAID, DABOI/ID. "Implants can inspire newfound life and confidence. When you see the look and smile on someone's face, it's truly incredible."
If you want to learn more about dental implants during Dental Implant Awareness Month, start with the five things you should know about dental implants, and be sure to ask your dentist these 12 important questions when you seek a dental implant consultation.
---
The dentist consulted for this article was Natalie Wong, DDS, FAAID of the Toronto Implant Institute in Toronto, ON.
Dr. Wong is the president of the American Academy of Implant Dentistry (AAID). She graduated from the University of Toronto with her Doctor of Dental Surgery in 1996 and received her Certificate in Prosthodontics from the University of Michigan in Ann Arbor in 2007. She is the only dentist who has attained a combination of the U.S. Board Certification in Implant Dentistry (Diplomate of American Board of Implant Dentistry/Implant Dentistry (ABOI/ID) – 2003), a Fellow of the American Academy of Implant Dentistry (FAAID 2004), U.S. Board Certification in Prosthodontics (Diplomate of American Board of Prosthodontics (ABP) - 2008), and Canadian Board Certification in Prosthodontics (Fellow of Royal College of Dentists of Canada (RCDC) – 2008).


What are those letters after the dentist's name? Find out what they mean.