If you're considering dental implants, it's important to choose a dentist with experience and knowledge you can trust. Here are three reasons why it's a smart move to select a dental implant dentist credentialed by the American Academy of Implant Dentistry (AAID):
1. Providing optimal patient care is the heart of the AAID's mission.
The first professional organization in the world dedicated to the advancement of implant dentistry, the AAID is committed to top quality patient care, research, education and excellence. When you select an AAID-credentialed dentist, you can be confident that you're working with an expert committed to meeting your unique needs and expectations —and who has the requisite extensive education, training and experience to ensure your dental implant surgery is successful.
For nearly 70 years, the AAID has been training implant dentists in the techniques necessary to become skilled in providing implant care that enhances quality of life for their patients. To earn AAID credentials, dentists must meet a rigorous set of educational and training requirements that include completing hundreds of hours of specialized education in implant dentistry and passing in-depth written and oral exams.
The AAID also makes it a priority to ensure that patients are well educated about dental implant options and the care they are to receive so that they can make informed decisions. You can find a wealth of helpful information on the AAID website.
2. AAID credentials enhance trust and credibility within the dental profession.
Membership and involvement in a professional association like the AAID demonstrates dentists' commitment to their field—in the eyes of both patients and peers. The willingness to invest the time and energy required to earn AAID credentials takes this professional commitment and credibility to the next level.
AAID members can earn Fellow or Associate Fellow credentials, and can also achieve certification and validation of their proficiency by becoming Diplomates of the American Board of Oral Implantology/Implant Dentistry (ABOI/ID).
The AAID partners with university faculty and top clinicians to offer educational opportunities in implant dentistry in the United States and internationally. Its MaxiCourse programs provide comprehensive training through 300 or more hours of lectures, laboratory sessions and live surgical demonstrations.
The organization's annual conference and continuing education offerings also provide multiple opportunities for dentists to keep pace with current techniques and technology advances in implant dentistry.
3. AAID-credentialed dentists are qualified to provide the treatment you need.
Dental implants are complex, sophisticated devices that require deep knowledge and specialized expertise to fit and place properly, and every treatment needs to be customized to the unique needs of the patient. You can count on an AAID-credentialed implant dentist to expertly evaluate your needs, design a personalized treatment plan and complete it successfully.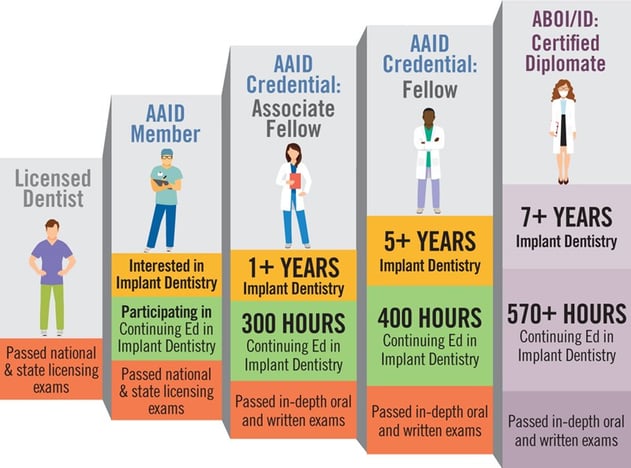 ---
This article was written by David G. Hochberg, DDS, DABOI, FAAID of Colony Square Dental Associates in Atlanta.
David G. Hochberg is the Immediate Past President of the AAID. He completed advanced training in both the surgical and restorative phases of implant dentistry in 1986, the same year he established Colony Square Dental Associates in Atlanta. Dr. Hochberg has been actively involved with the educational process in the dental implant field, serving on the Board of Examiners for ABOI and AAID. He lectures locally and nationally about implant dentistry, and served as Editor of the AAID News for 12 years.

What are those letters after the dentist's name? Find out what they mean.