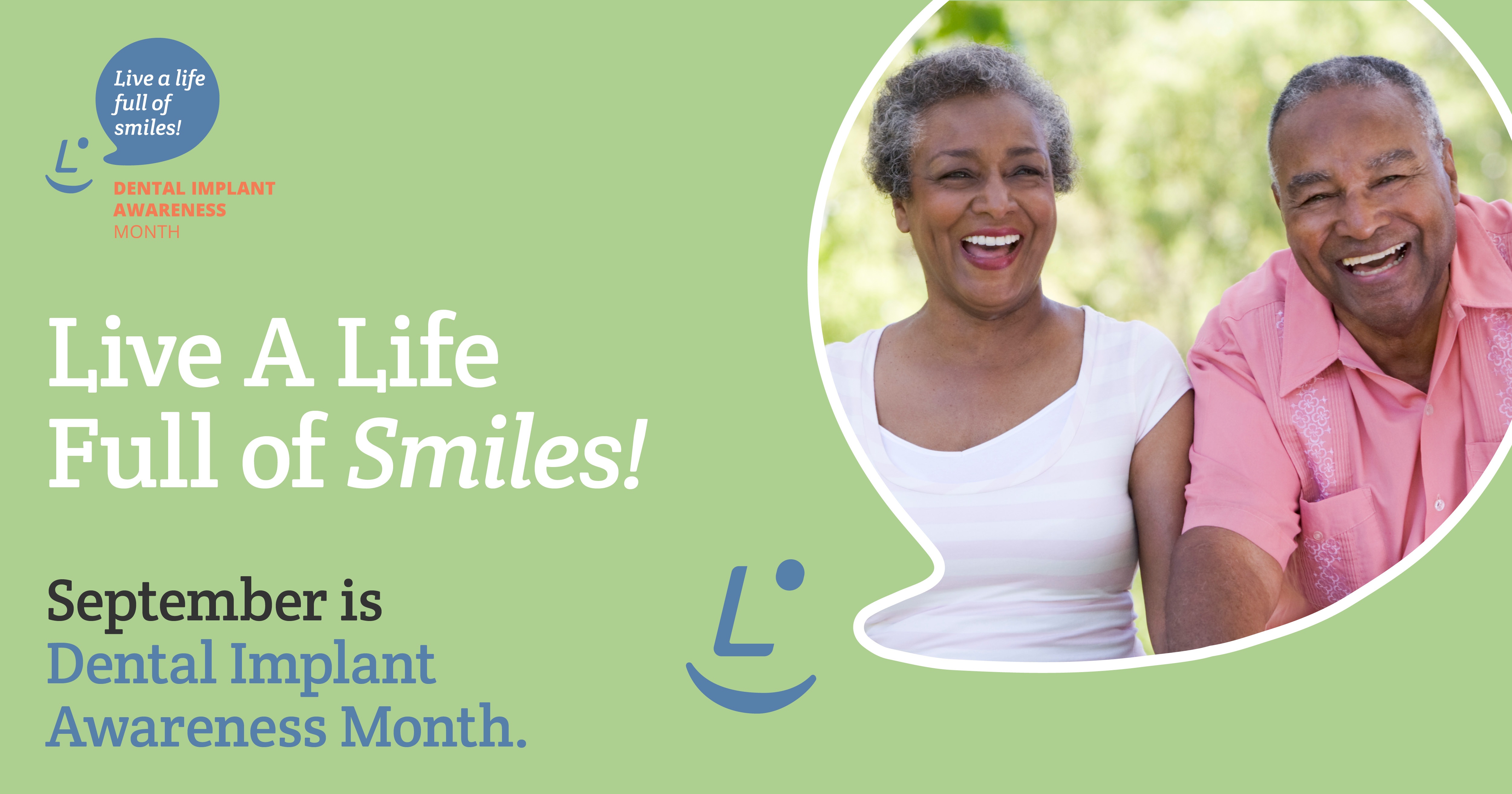 Hundreds of
American Academy of Implant Dentistry (AAID)
dentists and their patients around the country will celebrate 2018 Dental Implant Awareness Month in September. This year's theme, "Live a Life Full of Smiles," highlights the benefits that more than 3 million people in the United States who have implants have realized from their investment in their dental health.
Compared to dentures and bridges, patients who turn to dental implants to restore their smile discover that they feel, look, fit and function like healthy, natural teeth. They can brush and floss just like they did with their natural teeth. In addition, dental implants that are properly cared for last many decades. Dental implants also protect facial bone and healthy teeth. Dental implants are the only tooth replacement option that actually helps stimulate bone growth and prevent bone loss. Getting dental implants as soon as possible after losing a tooth helps prevent bone loss at the site.
Jan Plessner turned to an AAID-credentialed dentist for her new smile. She said, "I'm a happy person and my new smile matches who I am inside. On a scale of one to 10, I give it a 10-plus. I have not stopped smiling since I got my all-new smile. Your smile is your first impression. I feel much more confident now."
Retired school superintendent Richard Varriale says he would recommend dental implants to others, with one caveat: "IF you find the right dentist to do it. You want to be sure that you're getting a competent dentist who is trained in the procedure. You want to make sure you're confident in the doctor you use."
There is a significant difference between "dentists who do implants" and "dental implant experts." Dental implants are not one size fits all—they are complex, sophisticated devices requiring specialized training and expertise to fit and place properly.
"AAID celebrates Dental Implant Awareness Month each year to educate consumers about dental implants and the value of turning to an AAID member for their surgery," said AAID President Dr. David G. Hochberg. "When patients choose an AAID-credentialed dental implant dentist, they can be confident they are working with an expert who has the extensive education, training and experience required to putting them on the path to living a life full of smiles."
Looking to learn more about dental implants during Dental Implant Awareness Month? Start with the five things you should know about dental implants, and be sure to ask your dentist these 12 important questions when you seek a dental implant consultation.
---
Dentists consulted for this article include David G. Hochberg, DDS, FAAID, DABOI/ID of Colony Square Dental Associates in Atlanta, Georgia.

What are those letters after the dentist's name? Find out what they mean.