In the course of a lifetime, nearly everyone will lose at least one adult tooth. Most people will lose about 12 teeth before they die.
I believe it is essential for everyone to know that you should consider dental implants before you lose a tooth. Too often I've seen patients who decided to wait to deal with the loss of a tooth, resulting in bone deterioration that caused greater complications and costs for restoration, especially with dental implants.
So, my goal with this post is to get the word out – if you're having a tooth extraction, plan on replacing the tooth with a dental implant, from a credentialled dental implant expert, right away.
Tooth Loss Is More Common Than You Might Think
According to the American College of Prosthodontists, about 178 million Americans are missing one tooth and about 40 million are missing all their teeth. Tooth loss increases with age with about 30% of adults aged 65 and older having no teeth at all.
What Causes Tooth Loss?
The most common causes are dental decay (cavities), gum disease, and tooth fracture. Gum disease can affect people as early as their 20s, with 15% to 20% of adults aged 33 to 44 having gum disease. Smokers are three times more likely to have gum disease than the general population. Plus, only 13.5% of Americans floss every day — one of the best ways to prevent bacterial build-up, tooth decay, and gum disease.
Avoid Bone Loss After Tooth Extraction
Bone loss following tooth extraction happens very fast. When a tooth is extracted, it includes the whole tooth from the crown you see above the gum line to the bottom of the root that connects to the rest of the body.
Normally, a tooth root is surrounded by bone, called the alveolar bone, which gives teeth the support they need to withstand the forces of biting and chewing. Once a tooth is removed, the surrounding bone begins to shrink – both horizontally (from side to side) and vertically (from top to bottom).
This shrinkage happens quickly; in as little as 6 weeks after the extraction. Most of the bone loss will happen in the first 6 months after the procedure but can continue for 18 months or more. Research shows that an estimated 50% of the alveolar bone width is lost within 12 months after extraction, 30% of which happens in the first 12 weeks.
When Losing Multiple Teeth
When multiple teeth are removed, the shrinkage impacts the entire arch. Imagine your teeth are like a tent. Now imagine you only have two posts holding the tent up — one at each end. Place pressure on the top of the tent and the whole thing caves in. The same is true when you lose multiple teeth. The shrinkage causes the entire arch to be less stable and more prone to shifting and shrinkage.
What are the Dangers of Bone Loss?
Tooth extraction can affect neighboring teeth.

Receding gums and bones can weaken the teeth next to the extracted ones. This can lead to misalignment, loosening, or even loss of neighboring teeth over time. Depending on where the extraction is in the mouth, the movement of neighboring teeth can also lead to changes in the way your face looks.
Tooth extraction can weaken existing bone

. When you remove a tooth and particularly when you remove multiple teeth, the surrounding jawbone gets thinner and shorter. This makes your teeth more susceptible to fracture from falls or other facial injuries.
Delays in resolving the empty space after tooth extraction can lead to greater complexity and cost in the future

. Of all the tooth restoration methods available (bridges, dentures, and dental implants) only dental implants replace the tooth root. The implant is embedded into the bone and allows the bone to continue to grow normally, preventing shrinkage and keeping the bone strong. But if the implant isn't placed soon after the extraction, you can experience further bone loss, which may require bone grafting or more complex dental implant solutions.
A Final Word: Turn to a Dental Implant Expert!
Not surprisingly, I believe the best tooth restoration technique is dental implants because they replace the root, keeping your teeth secure and strong. Each case and each patient are different and require a customized solution. That's why it is so important to seek out a dental implant expert with lots of experience with the many types of dental implants and surgical procedures.
AAID certification means your dentist has completed hundreds of hours of hands-on training. So, look for the AAID credential from the dentist you choose for your dental implants.
And remember, don't wait to get your implants! Plan on beginning the dental implant process as quickly after your tooth extraction as possible – in some cases, it can even be done the same day.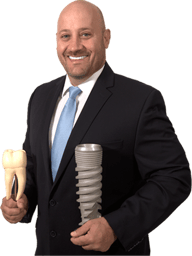 Dr. German Arzate, DDS, FAAID, DABOI/ID earned his dental degree from the National Autonomous University of Mexico in 1988. He completed postgraduate work in surgical and prosthetic implantology, an advanced diploma in bone morphology, and a Bio Progresiva de Riquets diploma. He earned his AAID certification in 2016 and earned his credential as a Diplomate of the American Board of Oral Implantology/Implant Dentistry in 2018. He can be reached at doctor@cancuncosmeticdentistry.com.