Most people probably don't think that orthodontics (braces) and implants go together, but they can in the right circumstances. Both braces and implants may help prevent tooth decay and gum disease, improve a person's appearance, and prevent dental injuries. They help build a person's confidence and improve their smile.
Both braces and implants allow for the improvement of the form and function of your mouth and can help prevent tooth loss and other teeth from being compromised in the future. If you have lost a tooth or have misaligned teeth, implants can be a challenge because there is a lack of adequate space.
Therefore, some dentists will want to straighten your teeth prior to placing an implant because it creates better esthetics and a better functional result. Your mouth will be healthier for longer periods of time.
In the case where inadequate space or misaligned teeth exists, completing orthodontic work first allows for your bite (occlusion) to be corrected and creates the proper space for the implant to be placed. It's generally easier to move teeth into their correct position first because implants are integrated to the bone and do not move like regular teeth.
In some circumstances, braces could be helpful after an implant has been placed, such as when the teeth around the implant need to be moved to improve the alignment.
Timing
Placing implants can take from six (6) months to one year from initial placement until the completion of the restoration. Adding braces to this mix may add an additional 6 to 12 months depending on what your specific needs are. This may mean that it could take up to two years before the entire process is complete.
While discussing a treatment plan with your dentist, it is important to understand what is involved with both procedures, the length of time for the treatment, and the intended outcome. Those patients who need both implants and braces do so because it allows them to experience improved chewing and function in their mouth. It also improves their overall appearance.
Finally, it is important to note that while the treatment seems like a long time, in the scope, it is actually short-term because you will experience improved oral health over the rest of your lifetime.
To begin your implant journey, find an AAID-credentialed implant expert near you.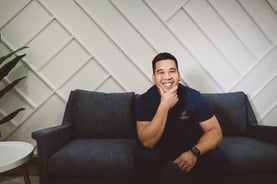 Dr. Peter Lim earned a Bachelor of Science in chemistry at Rutgers University. Prior to dental school, he achieved a Master's in Biomedical Sciences at the University of Medicine and Dentistry of New Jersey. He received his Doctor of Dental Surgery Degree from New York University College of Dentistry, where he graduated with honors in special needs dentistry. While in dental school, he served as a clinical research assistant at the Bluestone Center for Clinical Research. He completed his post-graduate residency program at University Hospital in Newark, New Jersey. To ensure his patients receive the latest in dental innovation and advancements, he continually pursues leading-edge techniques and technology.
His practice is located in Royersford, Penn. Beyond serving patients, family is his priority. He and his wife love to spend time with their children. Dr. Lim also is a devoted foodie who greatly enjoys sports and working out.
Visit Embery Dental here.