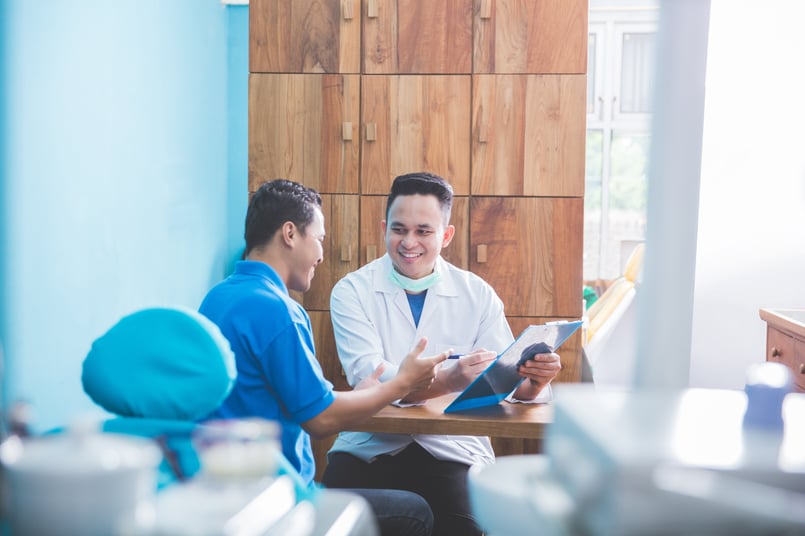 When considering dental implants, people often have a mixture of emotions when deciding to set up an initial meeting with a dentist. It's very common to feel nervous and research a lot of dental implant questions to determine if this is the best solution for tooth loss replacement.
There are great resources about what to expect when getting dental implants, and it can be especially reassuring to know what will occur at the initial consultation.
Although every dentist will deliver a slightly different experience, this post covers an overview of what you can expect at your first appointment and steps you should take to ensure you are choosing the best dental implant expert for the procedure.
Start by finding a knowledgeable dentist
The American Academy of Implant Dentistry (AAID), one of the oldest organizations dedicated to implant dentistry, has an online directory to help you find an implant dentist in your area.
In order to have a successful implant placement and restoration, it's critical to select a dental implant expert who has thorough experience, advanced training, and sophisticated judgment.
Meet the team
When you arrive at your appointment, you will meet the dental team and the dentist. They will support and guide you through the process so you can expect some casual conversation and a genuine introduction to make you feel more at ease.
Preliminary conversation
You will have an opportunity to talk with the doctor to share what's going on with your mouth and express your concerns. The doctor will review your records, ask about your history, and may review past x-rays or impressions. You might have to fill out some paperwork about your history and the reason for your visit, if you didn't do so before you arrived to the appointment.
Every individual is different so the dentist will ask you questions to assess your unique needs. This is a great time to let the doctor know how you want to see yourself and what outcome you would like to see.
It's completely normal to feel emotional during this conversation. Sometimes patients are embarrassed about their appearance or about expressing a history lacking in proper oral care, but this is a compassionate, no-judgment zone. Dental implant dentists enjoy helping give people back the look, feel and function of natural teeth.
Oral evaluation and imaging
The next step will be a thorough oral evaluation, including x-rays or 3D imaging of your mouth. It's important for the doctor to get a full view of what's going on so he or she can determine the best treatment plan.
Treatment plan
During the next step, the dentist will talk to you about a recommended treatment plan and discuss various implant options, the different steps of the procedure, the timeframe, what to expect after surgery and scheduling the next phase.
Questions and answers
Don't forget to take this time to ask the doctor questions. Dentists are passionate about helping you and they should be happy to talk about their experience, share success stories and answer your questions.
We have compiled a list of 12 questions to ask when choosing an implant dentist to ensure they have experience and knowledge you can trust.
Wrap up
By the end of the initial consultation, you should feel confident that the doctor will be able to give you the best possible treatment. If any additional questions arise, don't hesitate to make a follow up call.
---
This article was written by Bernee Dunson, FAAID, DABOI/ID of Dunson Dental Design.
Dr. Bernee Dunson, FAAID, DABOI/ID is the 2019-2020 president of the American Academy of Implant Dentistry (AAID). He received a biology degree from Morehouse College in 1987 and he received his Doctorate in Dental Surgery (DDS) from the University of Southern California (USC) in 1991. He is the Director of the AAID Washington D.C. MaxiCourse program where he teaches a hands-on learning Implant Surgical Series. Dr. Dunson lectures nationally and internationally on restorative implant dentistry, while continuing to publish articles in dental journals. He maintains his own practices as an implant, restorative and cosmetic dentist in Atlanta, Georgia and Stone Mountain, Georgia.­

What are those letters after the dentist's name? Find out what they mean.