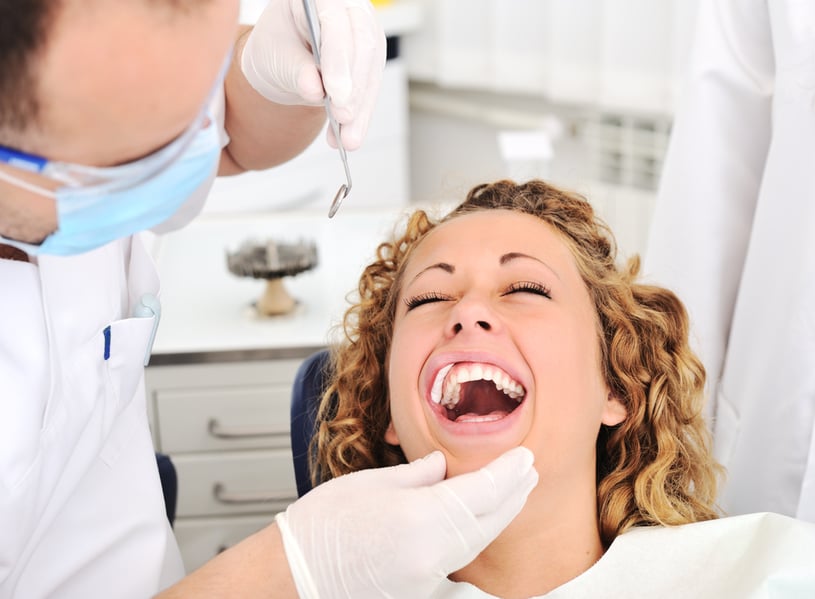 For decades, dentures (not dental implants) have been the most cost-effective way to replace large numbers of badly damaged or missing teeth. Today traditional dentures have their drawbacks, the most notable being that they lack the chewing strength of natural teeth (about 20% of your original biting force) and aren't entirely stable, which can make speech difficult and one feel self-conscious. Today, the closest replacement to natural teeth is fixed dental implants, a permanent solution that is not removable. While dental implants can be a relatively costly replacement option, particularly when you need to replace all your upper and/or lower teeth, it has priceless advantages. There are some people however who are not candidates for fixed dental implants, usually due to extensive bone loss. Thankfully, dental implant-retained dentures may still be an option that can help you regain both your beautiful smile AND the ability to chew and speak with confidence.
What are Implant-Retained Dentures?
Implant-retained dentures use the same technique as dental implants to embed supporting screws into the jawbone, which serve as an anchor for a full arch denture.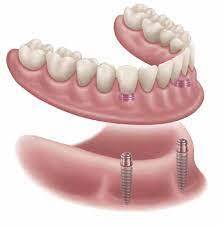 The number of implants used varies depending on the patient's mouth and bone, but generally falls between 2 and 6 (usually fewer for bottom teeth than top teeth). In some cases, patients will need to do bone grafting to build up the supporting bone structure. Patients without the ability to grow additional bone may still be able to take advantage of implant-supported dentures by using mini dental implants, which are thinner than traditional implants and require less bone for embedding. The final result is the same with a snap in or snap on denture that is removed daily for cleaning and maintenance.
Who Should Consider Implant Dentures?
Existing, Traditional Denture Wearers
If you currently have a traditional denture, it may be time to consider dental implants to secure the denture in place. Without dental implants, dentures rely on the gums and underlying jaw bone for balance. The constant movement of the denture causes the bone to act as a "shock absorber," which leads the bone to break down and dissolve. This results in poor fitting dentures over time. Often, by the time the denture no longer stays stable and needs replacing, the gums and bone are also in very poor shape, making it difficult or even impossible to place traditional dental implants. Using dental implants early on to secure your dentures protects the jaw bone from further deterioration.
Several Broken and Decayed Teeth
While nothing can perfectly replace your natural teeth, dental implants are the next best thing. If you have multiple missing, broken, or decayed teeth, it may become more effective to remove all of the remaining teeth rather than try to fix them. Constant repairs and dental visits lead to frustration, anxiety and a feeling of hopelessness. A more comprehensive and permanent approach to dental decline can be to remove all of the teeth, and replace them with implant-retained dentures.
Those Not Candidates for Dental Implants
If you have been told you are not a candidate for fixed implant teeth, you may still be a candidate for removable implant dentures using implants. Removable implant dentures provide better support for patients who have lost so much bone structure that their face now appears "sunken in" and collapsed. An implant denture allows you to regain your facial profile, providing a more youthful appearance.
Advantages of Implant-Retained Dentures
Implant-retained dentures offer many advantages compared to traditional dentures, including:
Maintaining jaw bone structure
Improved denture stability
Fewer sore spots than traditional dentures
Better retention so you don't have to worry about embarrassing moments like teeth falling out
Increased chewing force
Improved speech
A more youthful appearance
Easy to clean
Eliminates messy denture adhesive
Lower cost compared to permanent implant teeth
Thanks to advancements in today's dental implant treatments, patients have more options for more permanent tooth restoration today than ever before. The days of being "stuck" with traditional dentures is a thing of the past. If you have questions or want more information regarding implant dentures, contact a dental implant expert near you today!
This article was written by Kevin Haiar, DDS, DABOI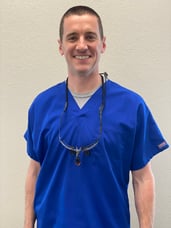 Dr. Kevin Haiar is a Diplomate of the American Board of Oral Implantology/Implant Dentistry. He earned his DDS from Creighton University School of Dentistry. Following graduation, Dr. Haiar served in the United States Navy where he was able to focus on oral surgery and dental implant procedures while simultaneously completing over 1,000 hours of continuing education in his path to becoming an implant specialist. He has recently opened his own implant practice in his hometown – Sioux Falls Dental Implant Center in Sioux Falls, SD.