When getting an implant, the key to success is prevention. Therefore, it's important to know about the possible issues that can make it harder for your implant to last. Knowing how to care for the implant will help ensure its longevity, avoiding disappointment and frustration. While there are many reasons that an implant might fail such as medications, the placement of the implant, and smoking, here are the top three:
Osseointegration (Fusion of the implant to the jawbone). Inadequate osseointegration or
fusion of the implant with the surrounding jawbone is a common reason behind implant failure. The reason could be due to factors such as insufficient bone density. To prevent this, a thorough pre-implant evaluation and treatment plan are crucial to determine whether a patient's bone structure is suitable for this fusion to happen. In some cases, this can be addressed and an implant placed with success.
Peri-Implantitis. This condition involves inflammation of the gums or tissues that surround the implant. It can ultimately result in bone loss and loosening of the implant. Maintaining good oral hygiene practices, such as regular brushing and flossing around the implants, along with routine professional cleanings is essential in preventing peri-implantitis.
Occlusal overload/Bite Force. Occlusal overload or excessive biting forces (biting down hard, grinding, or clenching) on a dental implant can cause damage or loosening over time. Patients are evaluated for proper bite alignment prior to receiving the implant. In cases of grinding or clenching, which can put undue stress on the implant, a mouth guard may be provided to alleviate the issue.
What to do if your implant is loose:
If an implant becomes loose, calling your implant dentist is crucial. Ignoring a loose implant will only worsen the situation and increase potential complications. The dentist will want to evaluate the reasons behind the loose implant by conducting a thorough examination like X-rays and an oral exam.
Prompt action will not only help address any discomfort but will also ensure better long-term outcomes for your oral health. As time is of the essence, seeing your practitioner will help to ensure success and better oral health. By taking care of your oral health and your implants, it is likely that they will last for 15 years or more without issues.
Book an appointment today using our tool to find a highly qualified dental implant expert near you.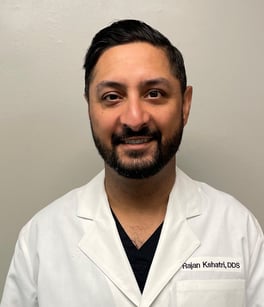 Dr. Raj Kshatri believes every patient is unique and requires a customized treatment plan to restore their oral health for the best outcome. He spends as much time as needed answering all of his patients' questions. He also believes in giving back to the community. He regularly volunteers time at the Interfaith Dental Clinic, providing much-needed dental care to those in need. Donated Dental Services is another organization in which he provides dental care to those in extreme need.

Dr. Raj is always looking to advance his education and the level of service he provides, as a result, he maintains a license in Comprehensive IV Sedation. This allows him to sedate apprehensive patients in a safe manner. He has also completed advanced training in placing Implants at the Alabama Implant Institute and completed the Comprehensive Implant Residency Program and the American Association of Implant Dentistry MaxiCourse. He lives in Nashville with his wife, Anita, and enjoys playing golf and traveling. Visit his website for more information.