"I feel like it is my responsibility to make sure there is good information on the positives and negatives of All-on-4 dental implants and All-on-6. These are meant to inform you, not to alert you."
Ramsey Amin DDS, FAAID, DABOI/ID
The All-on-4 dental implant full mouth solution is not without problems. In fact, many patients come to me to fix All-on-4 dental implant problems and remove failed implants. It is a major decision to have this treatment done.
In very skilled hands, this procedure has a very high success rate. There can be problems both long-term and short-term. These complications can be minimized by having treatment with a very experienced team that cares about the long-term outcome.
Keep in mind that the term "All-on-4" is a catch-all term for full mouth dental implants. It could be All-on-5 or 6 as well. The number of implants is not as important as where they are placed in the mouth (AP SPREAD).
The current thinking is that 4 implants is enough. That was not always the case. I have found the success of All-on-4 to be equal to that of All-on-5 or 6. Having more implants sometimes causes some of the complications listed below! Even my own thinking has changed over time after more than 10,000 implant placements and 22 years of experience. More is not always better!
The experience level of the All-on-4/6 team
The experience of the surgeon performing the All-on-4 procedure is most important for long or short-term success. Ask your surgeon to see results from 15-20 years ago. There is no doubt that a dentist who has done this routinely for a longer time often has a higher success rate.
The laboratory making the bridge can literally make or break the success or failure, as well. There is so much to the lab fabrication process. It is similar to building a complex architectural structure. It only takes one thing done incorrectly to cause problems years later.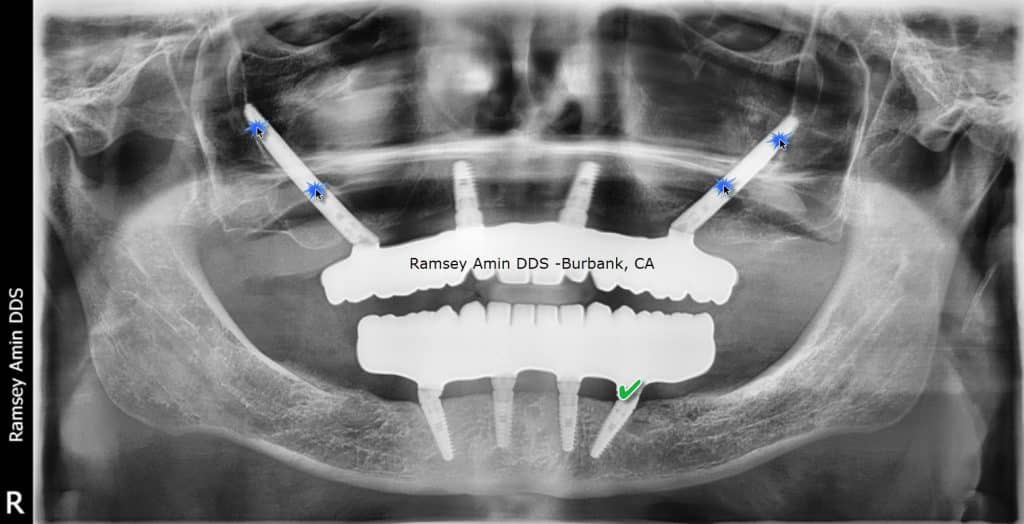 Double (regular) zygomatic dental implant x-ray. The blue stars are the zygomatic implants. One zygoma implant on each side.
For example, when zirconia is made, it has to be sintered and cooled at a certain rate over several hours. Some do not have the patience for this, which leads to a broken bridge. These are details at a microscopic level that cannot be seen by the patient.
9 Common All-on-4 Dental Implant Problems
1) Bulkiness of All-on-4 implants
The All-on-4 or 6 dental implant replaces not only your teeth, but it replaces missing gum and missing bone, as well. This is why there is a pink component. Because it is replacing these 3 things it is going to feel bulkier then your natural teeth. Sometimes zygomatic implants can have a little bit more thickness on the bridge on the inside of the upper as well.
Unlike natural teeth that are not connected to one another, the bridge is a solid horseshoe shape. It is important that it is connected from one side to another as that gives "cross arch stability" which is critical for long-term success. A full set of dental implants that have severe bone loss or significant underbite or overbite tend to be a little bit bulkier than those with regular bite and moderate bone loss.
2)
Broken All-on-4/6
dental implants
There are not any All-on-4 dental implant bridge materials that are indestructible. The preferred material is zirconia for the bridge. When made correctly, zirconia is the most durable material for the bridge (not zirconia bone implants). It is important that the bridge is designed to be convex and easy to clean everywhere while at the same time maintaining a minimum material thickness to prevent fracture. Most of the All-on-X dental implant bridges that fracture often are due to bite problems or insufficient bridge thickness from the gumline to the top of the teeth. I am not talking about the width but rather the height. If it is not the right dimensions it will crack in half. Sometimes having too many implants also causes this to happen
Fracture of the All-on-4 dental implant bridges most common with patients that have acrylic fused to metal bridges. These are often referred to as a "hybrid." Because acrylic is a plastic, the teeth fracture off. They also wear down in just a few years. I never do hybrid acrylic fused to metal implant restorations. These are essentially plastic dentures attached to the implants!
The implants in the actual bone can also fracture. This is more common when softer, grade 4 conical implants are used. This is more common in the Asian brands of dental implants. I prefer a grade 23 titanium alloy made in America or in Europe. I have yet to personally ever have an implant fracture but I have treated MANY of them as implant complication rescue/salvage procedures.
Implants are fused to the bone so they have no give. There are no shock absorbers like teeth. Some people that grind their teeth also have higher risk of fracture. They can need a night guard and/or Botox/Xeomin in the chewing muscles to control the bite. A bite that is not level can fracture zirconia or hybrid All-on-4/6 implant teeth.
3)
Heaviness of Zirconia Of All-on-4/6
Very few people have a problem with the heaviness of a zirconiaAll-on-4 bridge. Usually within a few hours they have adapted. Because the material is very strong and it is heavier than acrylic. Some people will say that there is a loud sound when they click their teeth together. As long as the facial measurements are correct this should never be a problem unless you are purposely smacking your teeth together making a clanking sound.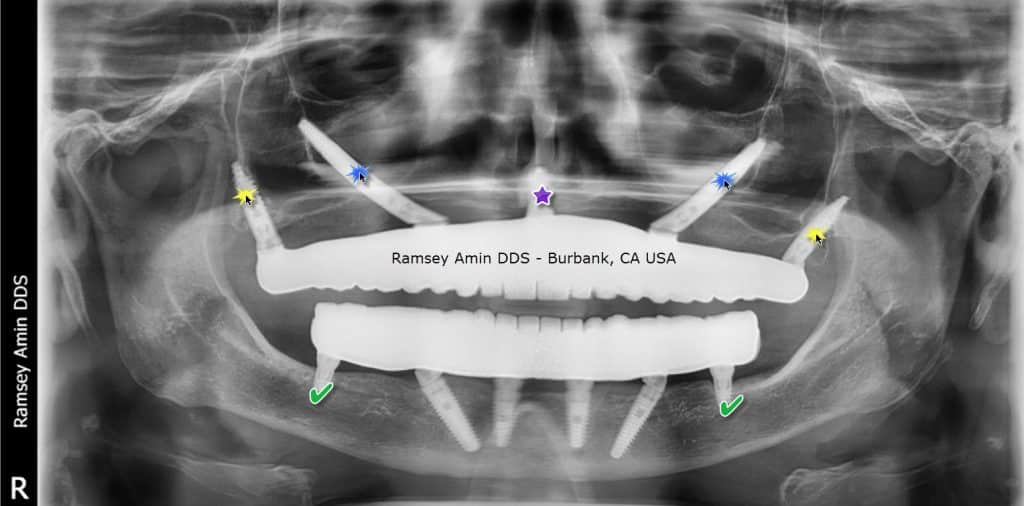 Combination zygomatic, pterygoid and nasal dental implant x-ray. The pterygoid implants have a yellow stars while zygomatic implants have blue stars.
4)
Implant Failure After The All-on-X Implant Bridge Is Inserted
Implants can fail. If implant failure happens after the final bridges done there are very few options to replace the implant while keeping the same bridge. Usually if an implant fails in the midportion of the bridge it can be removed and the All-on-4 can be supported by the remaining implants.
If the implant is on the end, the terminal support, oftentimes the entire bridge would have to be remade even if multiunit abutments are used. I have done some creative things in the past to salvage and fix many all-on-4 dental implant problems and fix failing situations.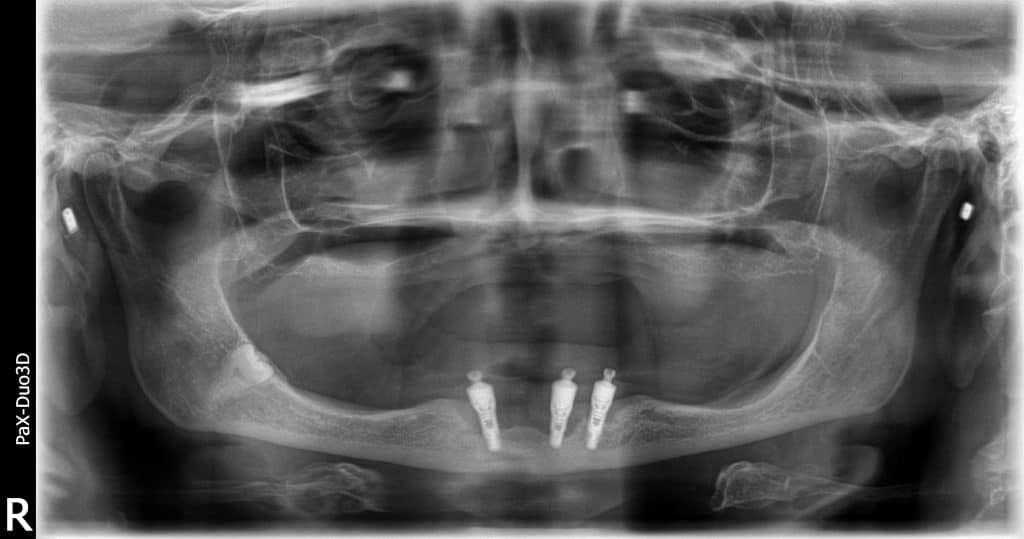 failing dental implants. Bone appears to be black and missing around the 3 implants. She use to have 4 but 1 already fell out
5)
Bone Loss/Gum Recession
It is possible for the metal of the implant itself or dental implant abutment to become exposed. It is not uncommon for just the abutment to show especially on a lower full arch All-on-4/6. Sometimes this is purposely done in order to make the teeth very "highwater" cleansable. If this occurs where the implant showing because of thinning gum or thinning bone then usually a gum graft can be done to cover it and slow down/stop the gum recession.
The way to avoid this is to have thick gums from day 1. Some people genetically have much thicker gums than others. Those that have thin gums often need gum grafting taken from the palate.
6) Infected All-on-4 dental implants
Infection can happen after the surgery or can happen years later. Infections that happen early are usually easily treatable. Late infections can cause bone and gum loss around the implants (peri-implantitis). It is important that you are monitored by a skilled dentist that knows what they are looking at.
Infections generally enter through the pockets between the bone and the gum. Daily home oral hygiene and not smoking/vaping are probably the two biggest factors in prevention of infection of full mouth dental implants.
Recurrence of your original gum disease can come back around the implants. There are times where the bad bacteria that destroyed your teeth can return to do the same damage around the implants. This can sometimes be prevented by using special antibiotic cocktails at the time of or just before the All-on-4/6 surgery.
Infection around implants is often called peri-implantitis or peri-implant mucositis.
7)
All-on-4 Dental Implants Have Less "Feel"
Because All-on-4 dental implants have no nerves it is hard to "feel" your bite all the time. This is referred to as "proprioception." In time this will begin to feel more normal. You will not be able to feel temperature such as cold with the teeth but that is not necessarily a bad thing.
8)
Speech May Become Altered
Speech alteration from the All-on-4 procedure is usually temporary. Most people will regain their current speech pattern after a short time. It takes some time to adapt. Because the teeth feel thicker some people just need a little bit longer. This can be greatly reduced by using facial scan and digital scanning technologies in the pre-design phase before surgery is ever done. On a rare occasion a speech therapist may be required.
9)
Lack Of Lip Or Face Support
I have written on this topic extensively. It is imperative that your lip and face look and feel good with the All-on-X dental implant full mouth restoration. Lip and face support is hinged upon your pretreatment diagnosis and measurements. If the bone leveling is accurate, the lip or face should be able to be supported with a fixed bridge rather than a removable snap on overdenture. This is often based on the skill of the providing dentist.
For some who have facial wrinkles, additional skin fillers may be needed. This is rarely the case in my practice where we use facial scanning technology to accurately determine lip position. It is important that the teeth get tested with prototypes to make sure the lip and face are filled out well.
Too much lip and face support may lead to lip biting while to little may lead to tongue biting. A problem can occur if the "transition line" shows when you smile. This is the line between your natural gums and the gums of the All-on-4 implant bridge. Preferably this line is hidden and the lip and face do not feel caved in. This is very much an art to achieving good facial profile without looking old too toothy.
What to do if you're experiencing all-on-4 dental implant problems
Sadly, about 35% of what Dr. Ramsey Amin D.D.S. performs is "re-do" implant dentistry…saving, removing, or replacing failed dental implants with problems.
Not only do we treat patients for with complex single front tooth to full mouth (All-on-4 implants), but unfortunately an increasing amount of patients who have problems with dental implants. Some travel from all over the USA to see Dr. Ramsey Amin
The first step to fixing all-on-4 dental implant problems is to schedule a consultation at my office. We will then discuss all of your options to fix the failed dental implants. Once we decide the best course of treatment, we will schedule a subsequent appointment.
When you choose an AAID-credentialed dental implant dentist, you can rest assured you're choosing an expert with the education, training, and proficiency to evaluate your needs, design a personalized treatment plan, and successfully complete it. To find a dental implant expert near you, click the button below!
Dr. Ramsey Amin, DDS maintains an implant only practice in Burbank, California. He performs all "full-scope implantology" with prosthetic reconstructions, including zygomatic and pterygoid implants. He is the President of the AAID Western District. He can be reached at https://www.burbankdentalimplants.com.